Running several Java Versions under Windows
Just found out that, if you run several Java Versions under Windows, Windows has this oddity to put the Java executables under \windows\system32, whenever you install a newer version of java. So if you have to build java code on the console with an older version, sometimes its not enough to set the %JAVA_HOME% environment variable or to set the version in systemcontrol, but to delete those executables.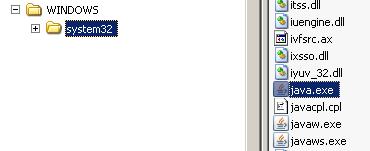 You can follow any responses to this entry through the RSS 2.0 feed. Both comments and pings are currently closed.